Able to Dream Again....

by Rodica Cerbov
Mihai is a twelve year old boy, who sadly has had to bear too many difficulties for a
child. We only discovered the truth about his story this month. When Mihai was born, his family was in a bad financial situation, so his father went to Moscow to work. Mihai and his brother (who is two years older than him) remained with their mother in the village. After a couple of years, Mihai's mother decided to go to work abroad instead of his father. She went to Italy, and her husband came back home to stay with the children. The father, however, realized that taking care of the children was very challenging. He was not prepared for this and did not know how to behave correctly.

In fact, this man has a very complicated character and is very aggressive, and it has been very difficult for Mihai and his brother to communicate with their father. Sometimes, their father would just beat them terribly.


One day the boys' father brought another woman into their house, and he prohibited
his sons to tell their mother anything about it, threatening to beat them if they said
anything. Mihai and his brother were frightened to death by their father, so they
did not share anything with their mother. This sad story started on December 30, 2009. Mihai's father bought fish and asked his new "wife" to cook it the way he liked it. She then asked the boys how to do it, and Mihai told her that his dad would like the fish to be fried. When Mihai's father came home, he got very angry that the woman did not do what he ordered her. He beat Mihai very hard as punishment. Twenty minutes later, Mihai ran away from home. He ran into the forest (which is close to their house), but soon became lost. For five days no one could find him.

On January 4th, a hunter, who was walking in the forest, saw him. At first he thought
it was an animal and was ready to shoot. Thanks be to God that this did not happen! However, Mihai seemed to be frozen to death. The man brought Mihai to the hospital in their village, and soon Mihai was transferred to the Children's Hospital in Chisinau where I met him on January 7th, 2010. He was in the rehabilitation unit, lying in his bed, very weak and completely silent. He did not answer any questions and seemed to ignore people. The doctors considered him insane and mentally ill. The main problem was, however, in his legs, which were frozen.


Unfortunately, Mihai's legs were in bad condition and the doctors amputated both of his legs.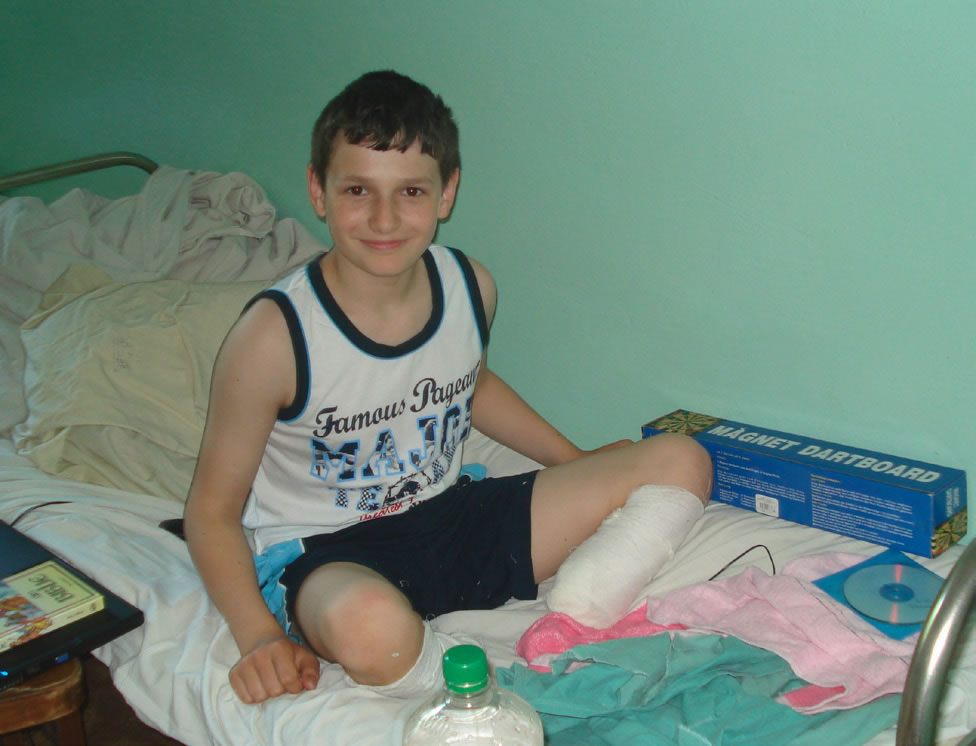 In May 2010, I was visiting with Mihai in the village. I found that when Mihai started
to use his prosthesis, a problem occurred. His legs were not equally amputated; therefore, it was very hard and painful for him to walk. We started to look for a way to solve his problem. We discussed with his mother the possibility of having a new surgery in Italy, but she found out that this surgery would cost about 50,000 Euro there, which was too much for their family. I had been praying for the Lord to allow us to have the surgery done in Moldova, and His answer was very quick. With the help of God, I found a doctor in Moldova who would perform a new amputation for Mihai.


Mihai was hospitalized on May 26th, 2011. The doctors performed a successful
amputation, and I was happy to see the radical change in Mihai during his stay. He
started to smile and talk to other people. As I started talking to Mihai about his life,
interests, and hobbies, he shared that he liked to play soccer and sometimes basketball. Mihai also opened his soul and told his mother and me the truth about his story. His mother was surprised to learn that his older brother also used to leave home very often because of their father. Even though she was communicating with her sons almost everyday through Skype, she had never imagined that they faced so many problems.


While Mihai was recovering from the surgery, I visited him every day. I could notice
the changes in his behavior, and I realized how wrong the doctors were when they said Mihai was mentally ill. After getting to know Mihai better over the past few months, he told me that he kept silent in the hospital because his father scared him, warning that he would kill him and his brother if he told anything to anybody about what really happened. In fact, Mihai is a very communicative and positive person. We talked a lot. We played and laughed together…then Mihai shared with me all that really happened between him and his father the night he ran away from home. That is how I learned the truth about his sad story. I also gave him a Bible for children and was really surprised to see he had read it all by the next day. I was glad to see him so interested in the Bible, and most exciting of all, Mihai received Jesus in his heart.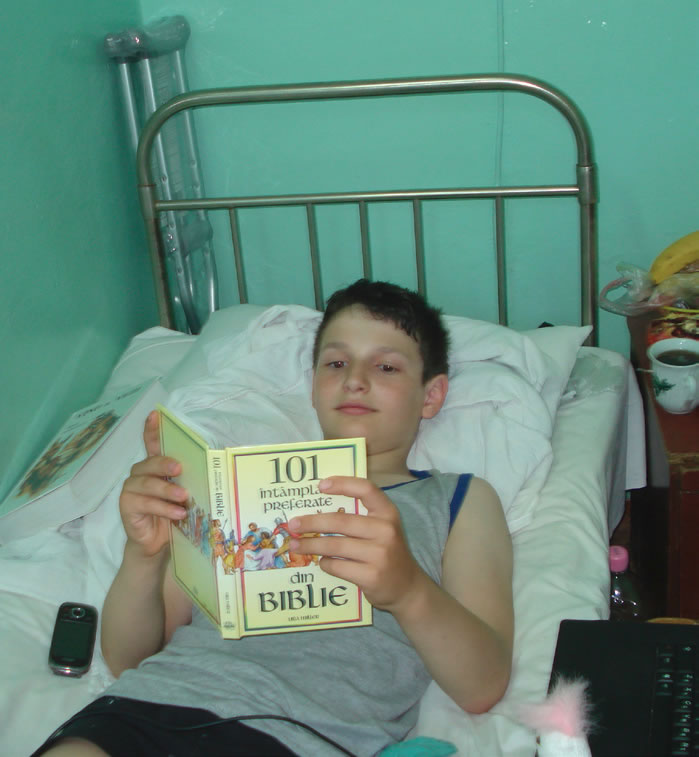 I knew how important it was to be there to encourage Mihai. So, Julie and I, the director of the children ministry of GOJM, decided to surprise Mihai on the day he was to leave the hospital. We put on clown`s clothing and came to Mihai. We helped him to put on a clown suit too and went downtown.
He left the hospital on June 16th, after only three weeks, and I think this day will always remain in his memory. I do not have words to express how happy this boy was! I am glad Mihai opened his heart to Christ and invited Him into his life. He is now able to dream again – he said he wants to become a prosthetic doctor when he grows up. Now, Mihai is in his home
village with his dad and his brother. His father is kind to him. He is learning how to live his new life, and we are also having a Bible study together.

In September, Mihai was in Italy, where he got his new prostheses. He is now home and very
happy, because now he can go to school. Please continue to pray for Mihai.


(Editor's Note: Anchor of Hope Foundation gave $1000 towards the purchase of Mihai's prostheses. Thank you so much to all of you who give to help these needy families!)